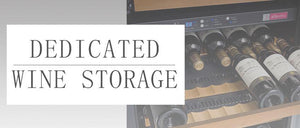 5 Reasons Why You Should Get A Wine Refrigerator
There are many reasons to get a wine refrigerator, maybe you bought so much wine you need to hide some from your significant other or maybe you have a very valuable wine collection. Whatever your big reason is for wanting a wine refrigerator, we have 5 reasons why you should click "add to cart" and get one.
1. You need a place to store your wine collection.
Not everyone has space or the budget for a home cellar. As much as we'd all love that, it's just not always practical and it is very difficult to maintain for preserving wine. While you could just find some space in your pantry or store it in a regular refrigerator, these storage conditions aren't ideal for preserving the quality of your wine.
Having dedicated storage space for your wines means you won't be taking up precious space in your refrigerator or other parts of your home. Additionally, with large collections, it is a great way to track the inventory of your wines and organize your collection.
With single and dual zone temperature zone wine fridges, you can really customize and organize your wine storage by separating your red wines and white wines.
2. You want to protect and preserve your wines.
They say wine gets better with time but that's only if you take measures to preserve and protect it. Preserving wines requires optimal long term storage conditions, like consistent temperatures, limited exposure to light, and limited exposure to movement or vibrations.
When you buy a wine of an older vintage, it is an investment and a wine refrigerator allows you to protect this investment. While you can store wine at room temperature, it is not ideal for preserving your wine. Ideally, wine should be stored at a consistent temperature between 50° and 59° Fahrenheit and any temperature fluctuations can be extremely damaging to the delicate aging process of the wine.
Wine refrigerators are designed to maintain a consistent temperature and will not fluctuate dramatically in temperature, which is particularly important for cellaring wine. Additionally, wine refrigerators have humidity controlling features like heavy insulation and UV protecting glass to prevent light damage. These are features you don't get from a wine rack or a wine cabinet. Humidity control is particularly important because it prevents the cork from drying out and shriveling up allowing the wine to exposed to oxygen.
Learn more about the factors that will ruin your wine's aging process here.
3. Wine refrigerators are cost-efficient.
While owning a home cellar may be a dream for a serious wine collector, the initial costs and maintenance costs are extremely high. On average, a home cellar will cost as little as $15,000. Not to mention, you will need to construct the cellar which may take months and can be riddled with complications and extra costs.
Additionally, to get the ideal storage conditions, that you can easily achieve with a wine refrigerator, you will need a cooling system that is constantly running and a humidifier to maintain proper humidity. With the cost of electricity, maintenance, the average monthly costs of owning a wine cellar are around $1,500 per square foot, plus $300 to $850 in maintenance costs.
Wine refrigerators provide the controlled environment that preserves your wine with the benefit of fitting inside your home, energy efficiency, and low maintenance costs. With so many advancements in technology, wine coolers have surpassed the classic home cellar in popularity because it is so budget-friendly.
With advanced features like dual zone temperature control, wine fridges have the ability to have independent temperature ranges to properly store both red and white wines within a limited space. Even those with a very extensive collection can find large commercial wine refrigerators that can hold up to 600 bottles.
Wine refrigerators are also a very impressive means to display your collection in your home. With LED lighting and a variety of finished for the fridge, you can customize your storage to suit your home and needs.
4. Ready to drink wine at your disposal.
Not only will your wine refrigerator preserve your wine until you are ready to drink it, but it can keep your wine at the ideal serving temperature so, you will always have ready to drink wine bottles. There's nothing worse than having guests over and you have to try to quickly chill a bottle of wine to serve.
Having a wine refrigerator means you will always have wine on hand to enjoy and your guests can pick a bottle from your impressive and luxurious LED-lit wine refrigerator. With a wine cooler, you'll be able to have a wide variety of wine available for you and your guests for any day or occasion.
5. You want to enjoy wine and life to the fullest.
A wine refrigerator is perfect for anyone who wants to enjoy wine and life a bit more. With options for freestanding and built-in wine coolers, it makes a beautiful kitchen or home upgrade. It adds that extra special touch to a home and lets you show off your wine collection. If the great outdoors is something you enjoy, you can enjoy it with the perfect chilled glass with anoutdoor wine fridge.
A wine refrigerator allows you to get the very most out of your wine experience without leaving your home. You can have that winery or restaurant experience comfortably at home. Plus, with the optimal conditions that a wine refrigerator creates, your wine will always taste its best!
Looking to preserve and present your wine collection? Contact us at 888-980-4809 to speak to a product specialist.
---