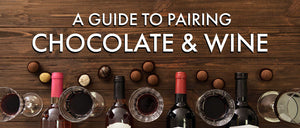 A Guide to Pairing Chocolate and Wine
Treat yourself to true decadence and luxury by combining rich and creamy chocolate with the complex notes of wines. There's no better pairing than these two, well maybe peanut butter and jelly, but we think chocolate and wine is a close second. Wine is certainly delicious on its own but when paired with a decadent and flavorful chocolate, both can be greatly elevated. 
Both wine and chocolate come in so many varieties with many complex flavors, offering virtually endless combinations! This pairing is so fun to play with and with a few tasting tips, you can take your tasting experience to the next level!
Maximize Flavor 
In order to fully enjoy all the unique nuances, notes, and aromas of your wine, your wine needs to be properly stored and served at the ideal temperature. The ideal serving temperature enhances every subtle aspect of your wines, maximizing its flavor and when paired with your chocolate, they will play off of each other perfectly. 
Proper wine storage preserves so much flavor, notes, and aromas in your wine, which is why we always highly recommend storing your wines in a wine refrigerator. Wine refrigerators are engineered to perfectly preserve the delicate nature of your wines by providing precise temperature control, ideal humidity, and UV protection to prevent premature spoilage. They can also store your wines at their ideal serving temperature bringing out the subtle notes. 
The ideal serving temperature for each wine varies dispensing on the wine. Red wines are typically served between 60-65 degrees Fahrenheit, white and rose wines are typically served between 50-60 degrees Fahrenheit, and champagnes and sparkling wines are best served at 38-43 degrees Fahrenheit. We also recommend using proper glassware for your wine because this will also further enhance the flavor and aromas of your wine. 
Tips for Tasting 
Always taste from light to dark 
For the most enjoyable experience, tasting light wines and chocolates first will allow you to enjoy these more subtle flavors and notes before proceeding to deep and intense flavors. Building to the more intense flavors means you get to enjoy every stage of the tasting. 
Best wines for chocolate 
The ideal wines that suit the texture and flavors of chocolate are silky, velvety, juicy, and soft wines. You want to typically avoid wines that are too dry or with heavy in tannins, which will overwhelm and throw off your tasting. 
The sweeter the better 
Shockingly, sweet wines go really well with the sweet chocolates! Don't be afraid to go a little overboard with the sweetness because they make a perfect pair. Keep in mind cocoa has a bitterness to it and this helps actually balance out the sweetness of the wine. 
Match intensities 
The deeper and more intense the wine, the deeper and richer you'd want your chocolate to be to complement the wine. The same with the lighter chocolates and lighter wines, they should pair beautifully together. 
Consider the other flavors 
If your chocolate has other flavors like fruit, caramel, nuts, etc., you need to consider pairing these flavors with the notes in your wine. Most fruits, especially stone fruits and berries, will pair beautifully with rich, fruity full-bodied reds. Caramel can pair delightfully with rich reds, balancing out any bitterness in the wine. 
Chocolate Choices and Wine Selections 
White Chocolate 
pairs well with Riesling, Moscato d'Asti, Sweet Rosè, Chardonnay, Sauvignon Blanc, Sweet Sherry, Champagne 
This very sweet, creamy, and rich chocolate has a very milky and buttery taste with notes of cream and honey. The sweet whites and rose wines pair perfectly with the sweetness of chocolate and the acidic nature of the wine helps complement the richness. Floral and citrus notes help brighten the rich cream and butter taste of white chocolate. Also, anything with a little bit of sparkle or effervescence helps lighten the rich flavors of the chocolate. 
Milk Chocolate 
pairs well with Pinot Noir, Merlot, Riesling, Port, Champagne
Milk chocolate, which contains 20 to 25% cocoa is still quite sweet and creamy with notes of brown sugar, vanilla, and cream. Wines with spices and fruit add complexity to sweet creamy chocolate. The light to medium body of these wines pair beautifully with the intensity of this chocolate. Milk chocolate comes in so many varieties and it is a versatile chocolate for pairing with a variety of wines. 
Dark Chocolate 
pairs well with Zinfandel, Cabernet Sauvignon, Merlot, Syrah, Cabernet Sauvignon, Red Meritage, Port
Bitter or semi-sweet chocolates that contain about 50 to 70% cacao, making the flavor much more bitter and intense. These chocolates also have more earthy and fruity notes that go well with really rich, deep, and intense red wines. The stone fruits, berries, and cherry notes that are commonly found in these rich reds goes so well with the bitterness and fruity notes of dark chocolate. Also, you will often find warm spices and warm notes like caramel in these wines, which will balance out the bitterness in these quite bitter chocolates. 
Chocolate with Fruits 
pairs well with Pinot Gris, Cabernet Sauvignon, Banyuls, sparkling wines, Brachetto d'Acqui, Moscato d'Asti, Ruby Port
Chocolates with fruits often contain berries, which complements wines with heavy notes of berry or fruit and have a sweetness to them. The sweet wines often play well with the slight tartness in the berries. Chocolate and range is also a common combination, which pairs beautifully with a fresh and crisp wine that elevates the fresh orange flavor. 
Chocolate with Nuts 
pairs well with Madeira, tawny Port, PX or Oloroso Sherry
Lightly sweet wines with notes of caramel, hazelnut, and burnt sugar blend beautifully with the nutty taste of these chocolates. The light sweetness and acidity of the wine helps balance the rich nuttiness of the chocolate.
Chocolate with Caramel 
pairs well with Madeira, Tawny Port, PX Sherry, Vin Santo, Muscat de Beaumes-de-Venise, sweet sparkling wines
These wines already have sweet notes of caramel and dried dark fruits, complementing the caramel and the chocolate. The light sweetness of these wines align well with the sweetness of the caramel.
---