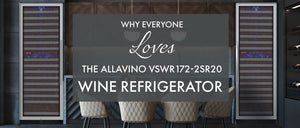 Why Everyone Loves the Allavino VSWR172-2SR20
For over two decades, the Allavino VSWR172-2SR20 has been our top rated wine refrigerator design. This bestseller is a household staple and even businesses love to store their precious wine collections with this wine refrigerator. So, what makes this design so special and so sought after? Read on to find out!
Reliable and Consistent Temperature Control - We have spent years of research developing our Tru-Vino Technology. This precise temperature control technology ensures that your refrigerator's temperature doesn't rapidly fluctuate or change. The adaptive technology slowly releases cool air to maintain your set temperature, preventing temperature fluctuations that may interrupt the delicate maturation of your wines. Learn more about Tru-Vino Technology in our article here.
Dual Zone Technology - This dual zone wine refrigerator allows you to store your whites and reds at their ideal preservation temperatures or you can separate your collection by preserving versus serving wines! The dual zone technology gives you many options to customize your storage and protect your collection. Each zone has its own independently controlled temperature zone with digital controls for you to easily set your perfect temperature.
FlexCount Shelving - Our unique and exclusive shelving design maximizes the space in your wine refrigerator and allows you to store more wines. Also, the FlexCount shelving is a unique cradling shelf design that allows you to store a wide variety of bottle sizes and shapes, allowing them to stack beautifully. The cradling shelves also helps prevent movement or vibrations from becoming the detriment of your aging wines.
Precise Humidity Control - Tru-Vino Technology not only helps regulate the temperature in your wine refrigerator but also the humidity. Humidity is one of the most underrated factors to consider when preserving wines. Humidity is integral for preventing the cork from drying out and shrinking, exposing the wine to oxygen or becoming too moist and causing the cork to deteriorate. Our exclusive Tru-Vino technology is known to maintain the most consistent humidity, protecting your wines as they age.
Ultra-Quiet Operation - There's nothing that ruins the ambience more than the buzzing of a refrigerator and with our thoughtfully engineered wine refrigerators, you'll never have to worry about this! Our cooling technology is designed to be gentle and quiet. It is designed to work effectively without you even noticing.
Low Vibration Operation - Along with being very quiet, our refrigerators are designed to be very low vibration protecting your wines from the damage that movement and vibrations cause. This is due to our advanced compressor engineering, which produces a powerful compressor with minimal movement and minimal noise.
UV Protection - Our wine refrigerators are constructed with a beautiful UV-blocking glass door to protect your wines from the aggressive UV rays from the sun. UV light can break down the delicate flavors in your aging wines, which is why many wine bottles have a dark colored tint. This additional barrier of protection for your wines ensures your investment won't be lost. While the glass contains UV-blocking technology, it still allows you to view and display your wines beautifully.
Versatile Design - This versatile design allows you to use the wine refrigerator freestanding or built-in! This opens up a variety of possibilities for installing the unit in a kitchen, home bar, restaurant, or business. The lean and sleek design allows this wine refrigerator to slide into more slim and compact areas. The front-ventilation system ensures your wine refrigerator will work effectively when built-in.
Fan-forced Cooling - Our fan-forced cooling technology helps circulate the cool air throughout the entire unit and around the bottles. This addition to the cooling system is essential for maintaining temperature in a large refrigerator and ensures even cooling throughout the refrigerator. Additionally, it prevents temperature fluctuations and is a quiet feature.
Great for a growing collection - This wine refrigerator is great for those with a constantly growing collection because not only does it hold up to 172 bottles, but these wine refrigerators can be placed next to each other to create an even larger wine refrigerator for your growing collection. This versatile design suits a variety of interior aesthetics and with such a large capacity, you can organize your collection to your needs.
This popular design is beloved by wine professionals and wine collectors alike. With so many features focused on protecting and preserving your wine, you can see why this wine refrigerator is so highly rated. At Allavino, we are passionate about protecting your investment with versatile and timeless wine refrigerator designs. If you have any questions about the VSWR172-2SR20 or any of our other exceptional wine refrigerators, please contact our experts at 800-710-9939. Our team will help you choose the perfect wine storage solution for you.
---