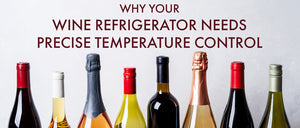 Why Your Wine Refrigerator Needs Precise Temperature Control
We've been in the wine industry for over 20 years and we've heard all the complaints about wine refrigerators. One of the biggest issues we've tackled while engineering our wine refrigerators is inconsistent and fluctuating temperatures. Sloppy temperature control is the bane of your aging wines! Consistent temperature is the only reason why you would purchase a wine refrigerator and because it is so important, we researched and developed Tru-Vino.
Tru-Vino Technology is our revolutionary precise temperature control technology that ensures close to zero fluctuations in temperature! Exclusive to our newest units, this technology is more energy efficient than traditional wine refrigerators. By gradually increasing or decreasing the temperature to meet the set temperature, the refrigerator isn't drawing so much energy to compensate for the drop or increase in temperature.
We all know consistent temperatures are crucial for storing and aging wine but do you know why this is the case? This is how temperature affects your wines and why temperature fluctuations are so detrimental to the aging process. Temperature fluctuations cause wine to expand and contract, causing pressure to build up. This resulting pressure will push the wine aromas through the cork and a dip in temperature will draw in air through the cork, prematurely aging your wines.
This innovative technology that we developed allows you to set the temperature and feel secure that your investment is safely being stored. Once the temperature is set, the Tru-Vino technology maintains the temperature with an almost constant gradual flow of air. This gentle cooling system prevents any sharp dips in temperature and keeps your temperature consistent throughout the unit. This steady and precise temperature control technology ensures your aging wines won't be thwarted by fluctuating temperatures. Even the smallest fluctuations in temperature can affect your preservation process and as passionate wine connoisseurs we wanted to protect our precious investment.
This Precise Temperature Control technology also plays a huge role in another vital aspect of wine preservation, humidity. The humidity of your wine storage is essential for maintaining the corks in your wines, which deteriorate rapidly if they become too dry or too damp. Since your cork is sealing and protecting your wine, you will want to ensure your storage environment has the more consistent ideal humidity. Due to the gentle cooling technology of Tru-Vino, the humidity in the Tru-Vino wine refrigerators is unwavering, protecting your wines from exposure.
Never let fluctuating temperatures ruin your aging wines again! With Tru-Vino technology, your wines are protected and safely stored until you're ready to drink them. Wine is more than a hobby, it is an investment. We believe in protecting this investment until you're ready to enjoy it. If you have more questions about Precise Temperature Control, contact our products experts at
888-980-4809
.
---