+ Free Shipping
---
---
Exclusive Tru-Vino Technology allows for near zero temperature fluctuations and dramatically reduces variations in humidity levels
Digital control panel allows you to precisely set the internal temperature between 41°F and 64°F
Allavino's FlexCount shelving design gives you flexible storage options for up to 56 bottles of wine
Utilizes the most energy efficient compressor on the market, with ultra-low vibration and quiet operation
The Allavino FlexCount II Series VSWR56-1SR20 Single Zone Wine Refrigerator with Tru-Vino Temperature Control Technology makes it easy to store up to 56 wine bottles of various sizes. and can be used as a stylish freestanding unit or built into your cabinetry for seamless wine storage.
Protect and preserve your wine collection with the latest innovation in wine storage technology by Allavino. Precisely set your desired temperature with the easy-to-use digital control panel and trust in Tru-Vino Temperature Control Technology to protect your collection through consistent temperature maintenance.
Allavino's exclusive FlexCount wine racking technology cradles bottles and is designed with vibration-reduction technology to protect aging wines. This unique shelving design allows for ultimate flexibility and versatility when it comes to storing a variety of bottle sizes and shapes. Easy gliding shelves allow for easy access to your collection without disrupting the delicate wine maturation process.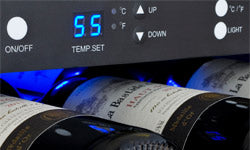 Tru-Vino Temperature Control Technology
A clear digital display with user friendly push button controls makes setting and monitoring the temperature quick and easy. Once the ideal temperature is set, exclusive temperature control technology maintains temperature with near zero temperature fluctuations. Stability is the key to well-aged wine, and Tru-Vino puts this key in your grasp.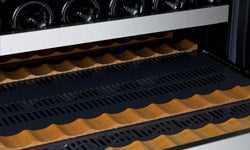 FlexCount Innovative New Shelf Design
Allavino is at the leading edge of shelf design, incorporating revolutionary metal shelves that are strong enough to hold bottles without sagging, yet thin enough to maximize the available space in the cabinet for wine storage. Wood slats refine each shelf and gently cradle each bottle to prevent harmful vibration from affecting your wine. Each of the shelves glides out smoothly on ball bearing tracks, so every bottle is easily accessible.
Store More Bottle Sizes
We did our research on wine bottles and designed a shelf to fit many common bottle shapes. The clever form of the shelves creates more space between each level within the cooler, allowing you to store bottles with varying diameters without having to remove racks and reduce your overall storage capacity.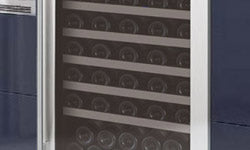 Tailored to Fit Your Space
This unit is front-venting, intaking and expelling air through a discreet opening on the bottom front. This style allows it to be built in to your cabinetry for a seamless look. Even if you don't have space in your cabinetry, it has finished sides and top, allowing you to use it as a freestanding unit that will look great in any room of your home.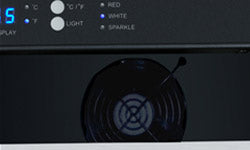 Fan-Forced Cooling
Internal fans circulate refrigerated air inside the unit, pulling heat out of the bottles within quickly and evenly. This active cooling method reduces initial cool down time to bring wines to their ideal temperature faster. The disperal of cooling power also prevents drastic temperature fluctuations that could be harmful to your wine.
Width: 23.4 inches
Height: 33.9 inches
Depth: 23.6 inches
Unit Weight: 170 lb
Shipping Weight: 177 lb
Built-In Capable: Yes
Security Lock: Yes
Zones: Single Zone
Cabinet Color/Material: Black Metal
ADA Compliant: No
Commercial Use: Yes
Outdoor Use: No
Energy Star Rated: No
Wine Bottle Count: 56
Capacity Details: Shelves hold between 9 and 11 bottles
Adjustable Thermostat: Yes
Digital: Yes
Type: Compressor
Defrost System: Automatic
Front Ventilation: Yes
Number of Shelves: 6
Primary Material: Metal
Removable: Yes
Adjustable: No
Glide-Out (Roller Assemblies): Yes
Bottles per Shelf: Varies
Color: Black
Lighting: Blue LED
Type: Glass
Number of Doors: 1
Color/Material: Stainless Steel
Door Handle: Towel Bar and Curved
Hinge Reversible: No
Tinted/UV Protective: Yes
Self-Closing: No
Electrical Requirements: 115V / 60 Hz
Running Amps: 2.4
---
Shipping policy
Free Shipping on all Allavino units is standard curb-side service only. Additional charges apply for white glove delivery into your home. Contact us at 1 (888) 980-4810 for white glove shipping rates.
All Standard Shipping shipments made via Common Carrier are for curb-side service only. Use of a lift-gate or inside delivery service will carry additional charges. When receiving shipments from Common Carrier it is recommended the Buyer have two people to help receive and move the item. Please contact us for white glove service deliveries.
No shipments or deliveries are made on Saturdays, Sundays, and holidays. Allavino is not responsible for delays in shipping due to weather, mechanical failures, typographical and/or transcribing errors, and others factors beyond our control.