+ Free Shipping
---
---
Exclusive Tru-Vino Technology allows for near zero temperature fluctuations and dramatically reduces variations in humidity levels
Digital control panels allow you precisely set the internal temperature between 39-64°F in the beverage zone and 41-64°F in the wine zone
Allavino's FlexCount shelving design gives you flexible storage options for up to 42 standard beer bottles, 112 12-oz. cans, and 56 wine bottles
Utilizes the most energy efficient compressor on the market, with ultra-low vibration and quiet operation
Designed for both built-in and freestanding use
Please Note: This item is made up of two separate units placed side by side that will both need to be plugged in.
Enjoy superior built-in or freestanding storage for all of your favorite beers, sodas, and wines with Allavino's all-new FlexCount II 3Z-VSWB24-2S20 Wine and Beverage Center with Tru-Vino Temperature Control Technology! Made up of one beverage center and one single zone wine refrigerator with opposite hinge doors, this unit makes it easy to keep a wide assortment of your favorite drinks close at hand thanks to the latest innovations in beverage storage technology by Allavino. Precisely set your desired temperature with the easy-to-use digital control panels and trust in Tru-Vino Temperature Control Technology to keep your beverages perfectly chilled through consistent temperature maintenance. Allavino's exclusive FlexCount shelving design allows for ultimate flexibility and versatility when it comes to storing a variety of bottles and cans. Smooth gliding shelves allow for easy access to your collection.
Note: This is made up of two separate units placed side by side that both need to be plugged into an outlet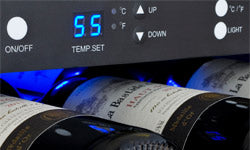 Introducing Tru-Vino Technology
Temperature control is a pinnacle factor in the long-term preservation of wine, and Tru-Vino cooling technology provides the most consistent and constant temperature control of any wine refrigerator on the market. The refrigeration systems slowly and consistently release cool air to reach the ideal temperature, and slowly stop the release of cool air when the temperature is reached. Due to the gradual and constant cooling system, this draws less energy than industry-standard units.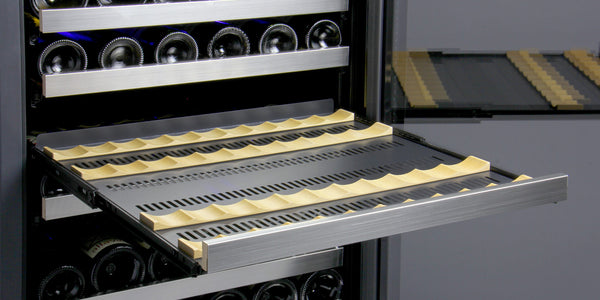 Durable and Attractive Wooden Shelves
Our products store a remarkable number of wine bottles on their sturdy hardwood shelves. These strong and stable shelves can be easily extended and removed, allowing you to quickly load and unload bottles. The bottom storage area offers plenty of room for oversize bottles, providing a handy place for the larger bottles in your collection.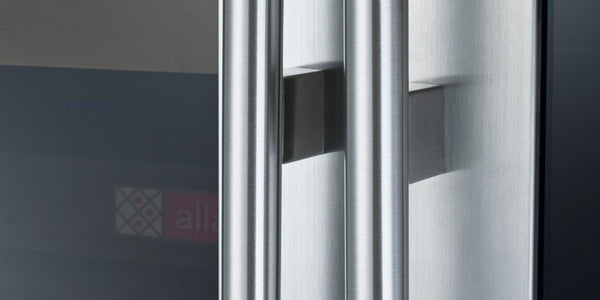 Stainless Steel Framed Glass Door
Show off your collection in style thanks to the elegant stainless steel framed glass door with UV tinting that helps protect your wine from harmful light. You have the option of a curved stainless steel handle or a cylindrical towel bar style handle to perfectly compliments the door frame and your interior design.
Width: 46.8 inches
Height: 33.9 inches
Depth: 23.6 inches
Unit Weight: 319 lb
Shipping Weight: 326 lb
Built-In Capable: Yes
Security Lock: Yes
Zones: Dual Zone
Cabinet Color/Material: Black Metal
ADA Compliant: No
Commercial Use: Yes
Outdoor Use: No
Energy Star Rated: No
Adjustable Thermostat: Yes
Digital: Yes
Type: Compressor
Defrost System: Automatic
Front Ventilation: Yes
Number of Shelves: 10
Primary Material: Metal
Removable: Yes
Adjustable: No
Glide-Out (Roller Assemblies): Yes
Bottles per Shelf: Varies
Color: Black
Lighting: Blue LED
Type: Glass
Number of Doors: 1
Color/Material: Stainless Steel
Door Handle: Towel Bar and Curved
Hinge Reversible: No
Tinted/UV Protective: Yes
Self-Closing: No
Electrical Requirements: 115V / 60 Hz
Running Amps: 2.4
---
Shipping policy
Free Shipping on all Allavino units is standard curb-side service only. Additional charges apply for white glove delivery into your home. Contact us at 1 (888) 980-4810 for white glove shipping rates.
All Standard Shipping shipments made via Common Carrier are for curb-side service only. Use of a lift-gate or inside delivery service will carry additional charges. When receiving shipments from Common Carrier it is recommended the Buyer have two people to help receive and move the item. Please contact us for white glove service deliveries.
No shipments or deliveries are made on Saturdays, Sundays, and holidays. Allavino is not responsible for delays in shipping due to weather, mechanical failures, typographical and/or transcribing errors, and others factors beyond our control.