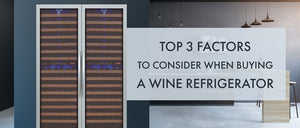 Top 3 Factors to Consider when Buying a Wine Refrigerator
Choosing a wine refrigerator is more than simply choosing another appliance for your home. We're not trying to be dramatic but it's choosing a protector for your investment. A wine collection is built of money, passion, and memories. Naturally, you'd want to protect this valuable investment with the best storage available; however, before you purchase a wine refrigerator these are the top three factors you need to consider.
1. Capacity
Determining the capacity you'll need to store your wine collection is essential, especially, if you have a constantly growing collection. Wine refrigerator capacity is affected by several different factors, like shelf design, spacing between shelves, and the size of the overall unit. Learn more about the importance of your shelving here.
We are very proud of our FlexCount shelving technology, which was specifically engineered to maximize capacity in all our refrigerators and fit a variety of bottle styles. Our FlexCount shelving has a unique wood and metal hybrid construction that cradles the bottles and allows bottles of all shapes and sizes to fit together on one shelf! Additionally, the heavy-duty construction allows bottles to stack on top of one another, maximizing capacity.
Determining the capacity you need will come down to your current collection, your collection growth rate, and how much you consume on a regular basis. We've come up with a simple formula to determine capacity but keep in mind if your buying habits vary, you may need to account for that.
Our capacity formula:
Bottles Purchased per month(x 2) + Current Collection - Bottles Consumed per month = Approximate Capacity You'll Need
Example:
Purchased per month: 5 (multiply this by 2)
Current Collection: 30
Bottles Consumed per month: 2
5(2) + 30 - 2 = 32 Bottle Capacity
You will need approximately a 32 Bottle or higher wine refrigerator to suit your growing wine collection.
2. Temperature Zones
Temperature control is essential for preserving and protecting the preservation of your wines. Controlling the temperature of your wine refrigerator is dependent on the temperature zones in your wine refrigerator. Each zone is an independently controlled temperature zone, that allows you to customize the temperature to your needs.
Most commonly, you will find Single Zone or Dual Zone Wine Refrigerators. Single Zone Wine Refrigerators are ideal for both persevering and serving your wines; however, the single temperature zone can be limiting for those with larger collections or for those interested in separating their wines. Dual Zone Wine Refrigerators allow you to separate and maintain your red and white wines at their ideal temperatures or your wines for serving and preserving at different temperatures. Learn more about Single vs. Dual Zone Wine Refrigerators here.
Since temperature can be detrimental to your delicate wines, Multi-Zone Wine Refrigerators are a very popular option for those seeking control over storage temperatures. Multi-Zone Wine Refrigerators can allow you to separate your wines up to four independently controlled zones! This allows you to separate your red and white wines for preserving and serving all in their own zone. When you need to access a bottle, you will not need to dig through your wine fridge or disrupt the preservation of your other bottles.
3. Installation Type
It's important to determine where you want to place your wine refrigerator in your home. If you're Installing your wine refrigerator, it is important you find a model that is designed to be built-in. Built-in Wine Refrigerators have special venting that releases the hot air to the front, preventing your wine refrigerator from overheating and being damaged. Built-in Wine Refrigerators can be used freestanding but freestanding only units should not be built-in.
Freestanding units can be placed virtually anywhere in your home to elevate the room and store your collection. Just keep in mind that Freestanding Wine Refrigerators still need room to ventilate in the back, so you will need to ensure there is some space between the refrigerator and wall. We recommend freestanding units for those who like to change up their home often or plan on remodeling in the future. For those who want a seamless look to their kitchen or home, a Built-In Wine Refrigerator makes a beautiful addition to any kitchen, living room, or home bar area.
Choosing a wine refrigerator can be overwhelming but with these three factors to consider, you have a place to start. Obviously, there are so many other factors you'll need to consider when buying a wine refrigerator, like
cooling technology
, quiet operation, additional features, and more. Discuss these options and more with our product experts at
800-710-9939
.
---