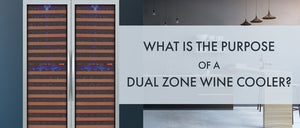 What is the Purpose of a Dual Zone Wine Cooler?
The dual zone wine refrigerator is a game-changer for wine preservation and storage. If you're serious about protecting and collecting, a dual zone wine cooler is essential. Aging wines are delicate and with proper care, the flavors and notes will develop into a rich and complex beverage but even the smallest inconsistency can be detrimental to your wine preservation. How do you prevent the total deterioration of your fine vintage wines? Precise temperature control and that's what a dual zone wine cooler allows you to do.
What is a Dual Zone Wine Cooler?
A dual zone wine cooler has two independently controlled temperature zones within one refrigerator. Each zone can be set to its own temperature to ensure the wines you're storing will be at their ideal preserving or serving temperature.
Dual Zone vs. Single Zone
As you may be able to deduce, a single zone wine cooler only has one temperature zone throughout the whole refrigerator. A single zone wine refrigerator is great for those storing only a few varieties of wine for preservation or those storing wines strictly for serving. There are a few varieties that can be stored at the same temperature for preservation purposes but if you have a large collection with a range of varieties, you may need to store wines at various ideal temperatures to ensure proper preservation. You can learn more about the pros and cons of dual zone and single zone wine refrigerators here.
Why Do You Need a Dual Zone Wine Refrigerator?
A dual zone wine refrigerator allows you to precisely control the temperatures for your various wines, which ensures perfect preservation. As wine ages, it becomes more and more delicate. Even the smallest environmental change can disrupt the wine aging process and will be a detriment to your valuable investment.
With a dual zone wine cooler, each zone can be set to the perfect temperature for preserving those specific wine varieties. It allows you to sort and organize your collection by white and red wines, vintages, or wines for preserving and wines for serving. These wine refrigerators offer much more versatility and customizable options for your wine storage while maximizing the space in your home or business.
With two independently controlled temperature zones, it's like having two separate refrigerators in one. If you have limited space, this is the ideal wine storage solution. Additionally, dual zone wine coolers tend to have a wider temperature range, which allows you to choose precisely the temperature you want your wine stored at. When precision is key, a dual zone wine refrigerator is an efficient and space-saving means to age your wines.
What to look for in a Dual Zone Wine Cooler
A wine refrigerator is a big investment so, we wanted to provide you with a basic guide on what to look for when shopping for your dual zone wine cooler. These are just some the most important features that you will want to consider before purchasing your wine cooler. If you need further help with selecting an Allavino wine refrigerator, contact our team of experts at 800-710-9939.
Temperature Range - Temperature range is extremely important for ensuring your wines are optimally preserved. When selecting a wine refrigerator, be sure the temperature range for both zones suits your needs. We offer a wide temperature range for all our wine refrigerators to allow you to choose your desired temperature.
Precise Temperature - Ensuring your wine cooler maintains a precise temperature is so important for preservation. Even the smallest fluctuations in temperature can alter the subtle notes and aromas in your wines. Additionally, there is a chance that it can damage your older and more delicate wines. We developed Tru-Vino Technology to ensure precise temperature control and near-zero fluctuations for wine preservation. You can learn more about this technology here.
Capacity - The capacity in each zone may vary by the refrigerator style so, be sure when selecting a refrigerator, each zone contains enough space for your collection. We find that side-by-side wine refrigerators are great for a growing collection and will offer you multiple temperature zones to customize your storage. We have an in-depth article on how side-by-side refrigerators are perfect for a growing collection here.
Temperature Control - Having total control over the temperature in your refrigerator is essential for wine preservation. Allavino wine refrigerators have a digital temperature control panel that allows you to precisely choose your temperature and with our advanced temperature control technology, you can rest assured knowing your collection is protected.
UV Protection - When it comes to protecting your collection, we believe every detail matters, which is why we've included UV filtering glass. This tinted glass protects your delicate vintage wines from degrading due to UV damage.
Installation Type - Most Allavino wine refrigerators can be used both freestanding or can be built-in. This versatility allows you to customize the placement of the wine refrigerator and incorporate it seamlessly into your space.
---