+ Free Shipping
---
---
Allavino Reserva Series Wine Refrigerator stylishly stores your wine, thanks to the seamless stainless steel door and customizable LED lighting
Digital control panel allows you to precisely set the temperature between 41 and 64 degrees Fahrenheit
Reserva uses FlexCount shelving design gives you flexible storage options for up to 163 wine bottles
Energy efficient Tru-Vino Cooling Technology delivers precise temperature control with low vibrations and ultra-quiet operation
Designed for both built-in and freestanding use; measures 71.5" H x 23.5" W x 27" D (28.75" w/handle)
---
Stylish Built-In Wine Storage
This wine refrigerator can be built into your cabinetry to provide an elegant storage solution that will look great in any room of your home.
---
Seamless Black Glass Doors
The seamless black glass doors showcase an elegant and clean profile while also resisting visible fingerprints. The tinted LowE glass protects your wine from the harmful effects of UV light.
---
Customizable Lighting
The customizable LED lighting allows you to choose from 9 color options and 5 brightness levels. Unlike incandescent lighting, LED lighting does not give off heat that can damage your wine.
---
Digital Temperature Control
Digital control panel allows you to precisely set the temperature between 41 and 64 degrees Fahrenheit to store your wines at their ideal temperature.
---
Tru-Vino Cooling Technology
Energy efficient Tru-Vino Cooling Technology delivers precise temperature control with low vibrations and ultra-quiet operation.
---
Revolutionary FlexCount Shelving
Allavino's trademarked design provides the ultimate flexibility in storage options while maximizing capacity. It gives you flexible storage options for up to 163 wine bottles.
---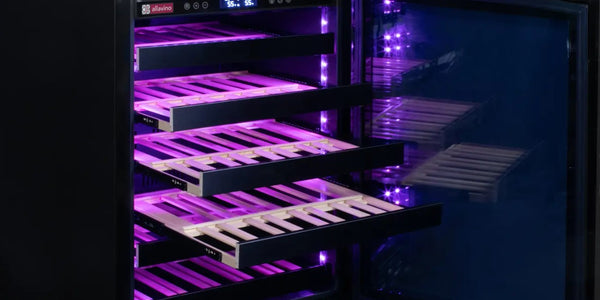 Multicolor Moods
This unit is equipped with RGB lighting, which allows you to set the color to one of 7 hue options depending on your mood. Hosting a party? Set the wine fridge to multicolor mode, and it will shift hypnotically between the various colors. The lights are LED, meaning that they use less energy and generate less heat that can damage delicate wine vintages.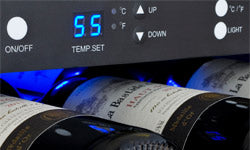 Benefits of Tru-Vino Technology
Engineered to have true consistent temperature control, Tru-Vino is unlike the standard wine refrigerator technology, which cycles between on and off states. Tru-Vino Technology has an adaptable system, which slowly and consistently releases cool air to reach the ideal temperature and slowly stops the release of cool air when the temperature is reached. This consistent temperature maintenance means that there won't be drastic temperature swings.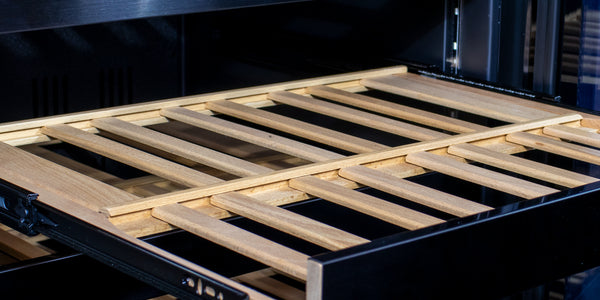 Store Securely with Flexcount
Here at Allavino we know that stability is the key to aging fine wines. To keep bottles safe and secure in storage, we developed the Flexcount shelf design. The metal frame prevents sagging while wooden slats hold bottles stable. The shelves roll out on ball bearing tracks, keeping them still and undisturbed as you pull the drawers out to browse.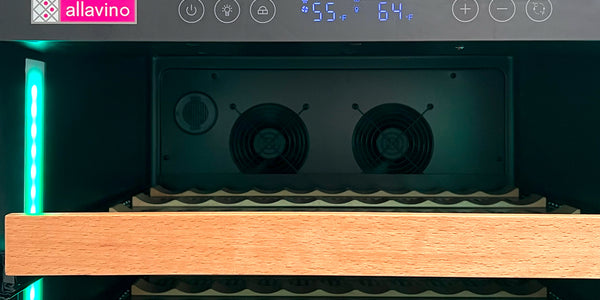 Control Separate Temperature Zones
Why settle for less than ideal? With multiple temperature zones, your wine fridge can maintain completely different varieties of wine at their ideal temperatures. Independent temperature settings allow for precise control of each region. Store reds in the top at one temperature and whites in the bottom at a colder setting, or whatever other arrangement suits your needs.
Width: 23.5 inches
Height: 71.5 inches
Depth: 27.0 inches
(28.75 inches with handle)
Unit Weight: 305 lb
Shipping Weight: 312 lb
Built-In Capable: Yes
Security Lock: Yes
Zones: Single Zone
Cabinet Color/Material: Black Metal
ADA Compliant: No
Commercial Use: Yes
Outdoor Use: No
Energy Star Rated: No
Wine Bottle Count: 163
Capacity Details: Shelves hold between 11 and 20 bottles
Adjustable Thermostat: Yes
Digital: Yes
Type: Compressor
Defrost System: Automatic
Front Ventilation: Yes
Number of Shelves: 14
Primary Material: Wood
Removable: Yes
Adjustable: No
Glide-Out (Roller Assemblies): Yes
Bottles per Shelf: Varies
Color: Black
Lighting: Blue LED
Type: Glass
Number of Doors: 1
Color/Material: Black
Door Handle: Towel Bar and Curved
Hinge Reversible: No
Tinted/UV Protective: Yes
Self-Closing: No
Electrical Requirements: 115V / 60 Hz
Running Amps: 2.4
---
Shipping policy
Free Shipping on all Allavino units is standard curb-side service only. Additional charges apply for white glove delivery into your home. Contact us at 1 (888) 980-4810 for white glove shipping rates.
All Standard Shipping shipments made via Common Carrier are for curb-side service only. Use of a lift-gate or inside delivery service will carry additional charges. When receiving shipments from Common Carrier it is recommended the Buyer have two people to help receive and move the item. Please contact us for white glove service deliveries.
No shipments or deliveries are made on Saturdays, Sundays, and holidays. Allavino is not responsible for delays in shipping due to weather, mechanical failures, typographical and/or transcribing errors, and others factors beyond our control.