+ Free Shipping
---
---
Allavino Wine Refrigerator features two temperature zones to store both red and white wines at their ideal temperature
Digital control panel allows you to precisely set the temperature in each zone independently, between 41-68 degrees Fahrenheit
FlexCount series shelving design gives you flexible storage options for a diverse collection of up to 50 wine bottles
Energy efficient Tru-Vino Cooling Technology delivers precise temperature control with low vibrations and ultra-quiet operation
Designed for both built-in and freestanding use
The Allavino Reserva BDW5034D-2BSL Dual Zone Left Hinge Wine Refrigerator Cooler with Tru-Vino® temperature control technology makes it easy to store up to 50 wine bottles of various sizes, and can be built into your cabinetry for seamless wine storage.
Seamless Black Framed Glass Doors
The seamless black-framed glass doors showcase an elegant and clean profile while also resisting visible fingerprints. The tinted low-emissivity glass protects your delicate wines from the harmful effects of UV light, which is one of the major reasons that fine wines can be damaged from improper storage.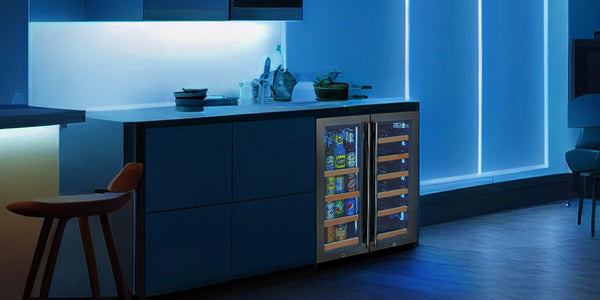 Stylish Built-In Design
This wine refrigerator can be built into your cabinetry to provide an elegant storage solution that will look great in any room of your home. This unit is front-venting, and can be built in to your cabinetry for a seamless look. It also has finished sides and top, allowing you to use it as a freestanding unit that will look great in any room of your home.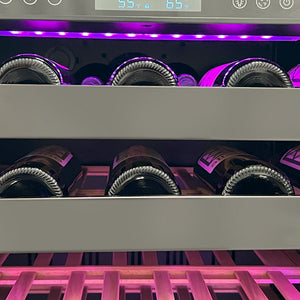 Customizable Lighting
The customizable LED lighting allows you to choose from 7 color options and 5 brightness levels. A special mode is also available that cycles through the colors slowly for a pleasing spectral effect. Unlike incandescent lighting, LED lighting lasts for years and does not give off concentrated heat that can damage your wine.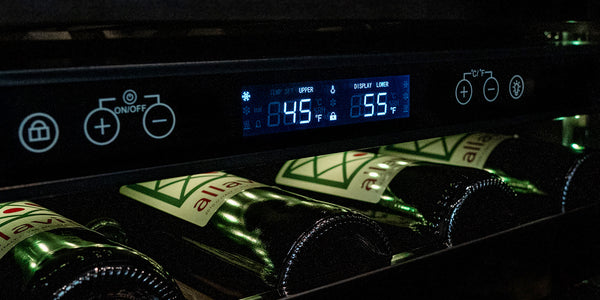 Tru-Vino Cooling Technology
Energy efficient Tru-Vino Cooling Technology delivers precise temperature control with low vibrations and ultra-quiet operation. Set your desired temperature, and the systems within your wine cooler will constantly monitor the internal temperature to adjust cooling power and maintain conditions with little fluctuation.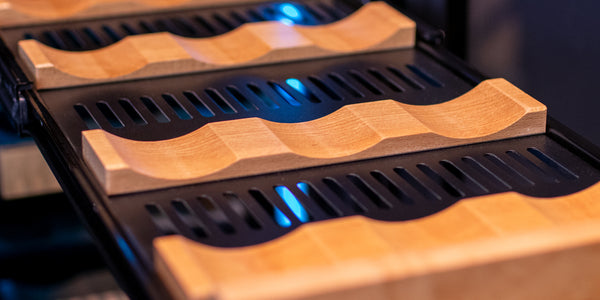 Revolutionary FlexCount Shelving
Allavino's trademarked design provides the ultimate flexibility in storage options while maximizing capacity. It gives you flexible storage options for a diverse collection of up to 50 wine bottles. Check the product image gallery for a helpful diagram that demonstrates the various bottle sizes our Flexcount shelves can accomodate.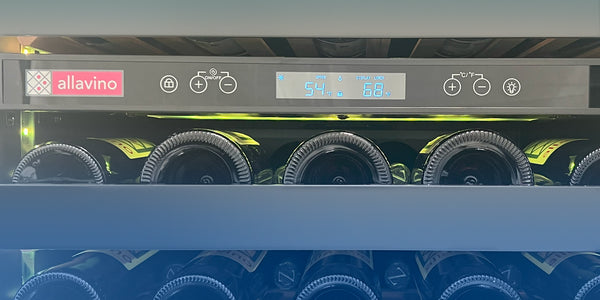 Digital Temperature Control
A digital control panel with physical buttons allows you to precisely set the temperature in each zone independently, between 41-54 degrees Fahrenheit (5-12°C) in the upper zone and between 54-68 (12-20°C) in the lower zone. Independent temperature zone management is a useful feature that allows you to keep different wines at their ideal temperatures within the same fridge.
Width: 24.0 inches
Height: 34.0 inches
Depth: 23.5 inches
(25.25 inches with handle)
Unit Weight: 166 lb
Shipping Weight: 173 lb
Built-In Capable: Yes
Security Lock: Yes
Zones: Dual Zone
Cabinet Color/Material: Black Metal
ADA Compliant: No
Commercial Use: Yes
Outdoor Use: No
Energy Star Rated: No
Wine Bottle Count: 50
Capacity Details: number of bottles per shelf varies
Adjustable Thermostat: Yes
Digital: Yes
Type: Compressor
Defrost System: Automatic
Front Ventilation: Yes
Number of Shelves: 6
Primary Material: Metal
Removable: Yes
Adjustable: No
Glide-Out (Roller Assemblies): Yes
Bottles per Shelf: Varies
Color: Black
Lighting: Blue LED
Type: Glass
Number of Doors: 1
Color/Material: Stainless Steel
Door Handle: Towel Bar
Hinge Reversible: No
Tinted/UV Protective: Yes
Self-Closing: No
Electrical Requirements: 115V / 60 Hz
Running Amps: 2.4
BDW5034D-2 Manual
Get started with your Reserva Wine Refrigerator using this helpful manual.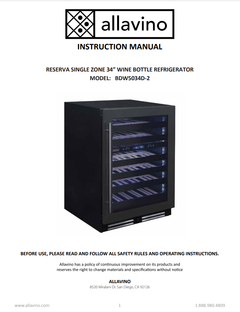 Download Manual
---
Shipping
Free Shipping on all Allavino units is standard curb-side service only. Additional charges apply for white glove delivery into your home. Contact us at 1-888-980-4810 for white glove shipping rates.

All Standard Shipping shipments made via Common Carrier are for curb-side service only. Use of a lift-gate or inside delivery service will carry additional charges. When receiving shipments from Common Carrier it is recommended the Buyer have two people to help receive and move the item. Please contact us for white glove service deliveries.

No shipments or deliveries are made on Saturdays, Sundays, and holidays. Allavino is not responsible for delays in shipping due to weather, mechanical failures, typographical and/or transcribing errors, and others factors beyond our control.