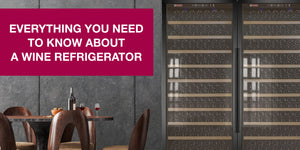 Everything You Need to Know About a Wine Refrigerator
So you love wine? What kind of wine drinker are you? Are you the Saturday Rosé sipper, the weekend wine taster, the "I only drink wine on days that end in Y" drinker, or the nose sniffer, mouth swirler, wine connoisseur drinker? No matter how or how much you drink, make it the best glass of wine ever with any Allavno wine refrigerator. Why do I need a wine refrigerator you ask? I'll give you 99 reasons, and a corked bottle of wine is one. Get an Allavino wine refrigerator, your wine will love you.
Let's start here... What is a wine refrigerator and why you need one.
A wine refrigerator, wine cooler, wine chiller, or wine vault is an appliance that maintains consistent temperature and humidity levels, preserving your wine collection. But can't I just put the bottles in the fridge? You will make your wine cry. A refrigerator cools at much colder temperatures than a wine refrigerator and works to get rid of humidity, for perfect wine storage you actually NEED humidity and for it to be maintained at constant levels. The vibrations from a regular refrigerator can also disturb your wines causing them to have unwanted chemical reactions and age more quickly. Not to mention the constant activity of your kids opening and closing the door causing fluctuations in the temperature.
A wine refrigerator and regular refrigerator both use compressors to cool, but the our exclusive Allavino Truvino technology absorbs the vibrations from the compressor to make sure not to disturb your precious wine collection. One last thing to stop you from using your fridge for wine storage, remember those left overs from last week sitting in the back of the fridge? Yeah, they are still there... imagine sipping on your favorite wine and getting hints of enchilada at the end. You get the point.
Next let's review the wine storage basics
We are really just recreating that underground wine cellar from hundreds of years ago on a vineyard in France.. but in a smaller more functional way that fits in your living room. Those wine cellars maintain a cool temperature, moderate levels of humidity, and protection from movement and light.
Wine Storage Temperature
You want to keep your wine cool, but not cold. Optimal temperatures for wine is 45-65 degrees, while 55 degrees is ideal, it also depends on the type of wine. If wine gets too hot, it will age faster than that 80s prom dress. Too cold, and you might be sipping on a wine slushy. Both extremes could cause the wine to become corked. Temperature is the most important factor in preserving wine, that's why we always recommend an Allavino wine refrigerator. Read more about wine temperature storage on our blog. Maintaining that perfect temperature is a also vital in the health of your wine. Fluctuations in temperature can cause the wine to expand and contract which will push the cork out. That's why here at Allavino we have worked hard to engineer our exclusive TruVino technology that maintains the most constant and consistent temperature control of any wine refrigerator on the market. Learn more about TruVino technology here.
Humidity Levels
Temperature and humidity both need to be moderate and consistent. Ideal humidity for your wines and your best hair days are about 50%-80% , with 70% being perfection. Imagine being out in the middle of the desert and how dry everything is, now imagine being in a rain forest and how moist and humid it is. Neither is ideal for your wine, too dry will your cork will shrivel up and spoil the wine, too much humidity can cause mold. Learn more about our TruVino technology which maintains just the right amount of humidity.
Light
Don't forget the SPF! Light can be a major cause in prematurely aging wine. Harmful UV rays will ruin that good bottle you have been saving. Our Allavino wine refrigerators are all made with tinted UV safe glass, rest assured your wine is safe. Put on those sunglasses and chill.
Storage
Are you a side sleeper? Well your wine is. Make sure to store your wine on its side in a horizontal position, this ensures the cork stays moist. Remember - A moist cork is a happy cork. You can also fit more bottles in a smaller space if they are stored on their side, the more the merrier!
Benefits of owning an Allavino Wine Refrigerator
Owning an Allavino wine refrigerator makes you feel fancy and just makes the wine taste better. No really, our wine refrigerators maintain the temperature and humidity levels, keep out the harmful lights and reduce vibrations to keep your wine at its optimal drinking state at all times. Also because buying a wine cooler is way easier than building an underground wine cellar in your back yard, although that would make for a great conversation starter. Allavino wine refrigerators come in all shapes and sizes, so don't worry you have room.
Short or Long Term Storage
So are you guys just dating or are you married? Wine coolers are great for long or short term storage. Short term storage would be anything less than 3 years and long term storage would be anything over 3 years. Check the wine makers recommendations for best aging time, every wine's prime year will be different.
Single or Dual Zone
You have two options when purchasing a wine cooler, single or dual zone. A single zone wine chiller maintains one consistent temperature, while the dual zone allows for two separate temperatures in the same unit. Just like looking for a partner, if you only stick to one type, then a single zone is a great option for you. If you like to mix it up or don't know what you want yet, go with a dual zone. Red, white, rose, champagnes are all stored at different temperatures. See our wine blog to learn more. White wines and champagne are stored at lower temperatures than reds. So if you want to enjoy a champagne brunch with the girls then pop a bottle of red for dinner with the hubby, the best option is a dual zone wine refrigerator like our Allavino 24" Wide FlexCount II Tru-Vino 172 Bottle Dual Zone Stainless Steel Right Hinge Wine Refrigerator. Still undecided? Go with a dual zone, its good to have options.
What size wine refrigerator should I buy?
The bigger the better... am I right? Not to worry, we have wine storage solutions for all sizes. A few things to consider when purchasing a wine refrigerator are; where it will go, how much wine you currently have, how much wine you plan to buy in the future, and if it will be built in or freestanding. We recommend getting a wine cooler that will hold at least double of your current collection. Allavino offers wine storage for collectors just starting out at 20 bottles, all the way up to wine storage options for restaurants and wineries at over 550 bottles! View our beginner, intermediate, and professional wine drinker size options.
Free-standing or Built-In
Allavino gives you the option to build your wine refrigerator into your cabinetry or leave it free-standing in any room of your home! We recommend building it into your kitchen or create a wet bar in that funky corner of the house that never gets used. The built-in option vents from the front, while free-standing units vent from the back so be sure to know where it will go before you make the purchase. The most common place to put your wine refrigerator is the kitchen, home bar, dining room, or even living room, but it really it can go almost anywhere. Next to the bed? Sure, why not!
Are there different kinds of racks/ shelves?
Racks on racks on racks. The insides of wine refrigerator vary just as much as what's on the outside, and is actually even more important. Allavino is the only brand to offer trademarked FlexCount shelving. Holds almost any bottle size on every shelf! Designed to hold all major bottle types. Constructed with sturdy metal shelves and wood slats gently cradling your wine babies, this refrigerator will not disappoint. Standard, tapered, tall, we hold em' all!
Bottle Count
How many bottles you be poppin' depends on the size of wine refrigerator you decide to get. We offer wine refrigerators that hold 30 bottles up to 600 bottles, in single and dual zones. Our FlexCount shelves hold almost every bottle style on every shelf, because not all wine bottles are the same. Select a size that holds at least double of your current wine collection. If you enjoy a variety of different wines, our FlexCount series is the best option. If you went to France and bought all their wines from last years harvest, the Vite Series what you need. Don't forget all our units come with a built in lock so your wine is safe and sound!
TruVino Technology
After years of research and development, the Allavino team would like to present our latest innovation in temperature control, Tru-Vino. Tru-Vino cooling technology provides the most consistent and constant temperature control of any wine refrigerator on the market. This adaptive technology is exclusive to Allavino and is changing the wine industry by providing a truly dependable and consistent temperature-controlled environment for preserving wine.
Tru-Vino Technology maintains the truest temperature by slowly reducing the delivery of cool air when it reaches its targeted temperature and as the temperature begins to change, it will slowly increase the amount of cooling that is delivered. This smart adaptive technology keeps the temperature constant and consistent throughout the entire unit.
Previous compressor technology would cyclically turn on and off, which can cause drastic drops in temperature, impeding wine preservation and can potentially cause the expiry of wine. Allavino is setting a new industry standard by incorporating this cooling technology that is not only the most consistent temperature control system but also, energy-efficient.
Along with steady temperature, Tru-Vino Technology ensures steady humidity control, which is essential for properly aging wine. Comparison studies have shown a significant improvement in the consistency of humidity control by about 30%! This prevents irreversible damage caused by corks drying out and exposing the wine to oxygen.
Protect and preserve your wine collection with the latest innovation in wine storage technology by Allavino. Easily set your desired temperature with the simple digital display and trust in Tru-Vino Temperature Control Technology to protect your collection through consistent temperature maintenance.
Which style is best for me?
So now you know you need a wine refrigerator but which one? Read the Top 3 Things to Considered when buying a wine refrigerator here.
New to the wine world? We recommend the 15" Wide FlexCount II Tru-Vino Technology 30 Bottle Dual Zone Black Wine Refrigerator. Holds 30 bottles, a great start to any wine collection. This unit features FlexCount shelves and dual zones so you can experiment with a variety of different wines.
Are you always hosting parties? The 24" Wide FlexCount II Tru-Vino 172 Bottle Dual Zone Stainless Steel Left Hinge Wine Refrigerator would be the life of the party. Holding up to 172 bottles in two different temperature zones on sturdy stainless steel shelves, this unit is sure last long after the night cap.
If wine is life, you are a serious collector and need a serious wine refrigerator. Let us present to you the 32" Wide Vite II Tru-Vino 277 Bottle Single Zone Stainless Steel Right Hinge Wine Refrigerator. Smooth gliding hardwood shelves easily adjust, allowing you to customize your storage for up to 277 wine bottles. Still need more storage? Put two of these units side by side and that's storage for over 550 bottles!
Questions about your Wine Cooler?
Our team of experts are just a phone call away to answer any questions you may have regarding your Allavino wine refrigerator. Contact us here.
---